Sosu Bench Warrant: Police obtain green light to arrest and detain Madina MP Francis Sosu (29-11-21)
08:05
Joy News Prime (29-10-21)
01:28:30
NSMQ2021 Championship: Tamale SHS, Ghana SHS, sail through to One Eighth Stage (29-10-21)
04:22
JoyNews Editorial (29-10-21)
05:24
Nation Builders Corps: Thousands live in uncertainty; await gov't's next step - Joy News (29-10-21)
10:52
"Finding the Witch Hunters" - Joy News Prime (29-10-21)
15:56
Anti LGBTQI+ Bill: Amnesty International wants gov't to withdraw proposed bill - Joy News (29-10-21)
02:59
499 Students vs General Legal Council: Parliament directs GLC to admit 499 students (29-10-21)
11:28
Joy News Prime (28-10-21)
01:26:26
Investigate incidents of chaos and violence – Dr. Nyaho Tamakloe to Police (28-10-21)
05:47
Asantehene warns against encroachment of KNUST lands - Joy News Prime (28-10-21)
04:06
2020 Elections: NDC describes EC as arrogant, disrespectful and unprofessional (28-10-21)
07:34
Health Services Workers Strike: Heaps of garbage take over Tamale Teaching Hospital (28-10-21)
03:08
Ghana's COVID Unsung Hero: I was born for this – Joseph Asitanga - Joy News Prime (28-10-21)
03:43
Ghana Immigration Service Recruitment - Joy News Prime (27-10-21)
12:48
Joy News Prime (27-10-21)
01:31:13
$1 Million Global Teacher Prize - Joy News Prime (27-10-21)
04:23
Regional Delegates Conference: Dr. Bawumia, Alan and Dr. Akoto-Afriyie banners flood A/R (27-10-21)
04:24
Officers to appear before Privileges C'ttee for attempting to arrest Madina MP - JoyNews (27-10-21)
07:29
Labour Unrest: Union strike by health services workers bites hard on day 2 - JoyNews (27-10-21)
08:48
Butchers in Kadjebi threaten to send animals to district assembly for processing (27-10-21)
04:26
Waala Dumba Festival: 'Jumping over cow', a test to prove strength and ability to lead (26-10-21)
05:05
Ban on Tricycles: Minority in Parliament describes directive as unconstitutional (26-10-21)
04:17
Induction of Prof. Nana Aba Appiah Amfo: VC to establish on student, one laptop policy (26-10-21)
18:09
Induction of Prof. Nana Aba Appiah Amfo - Joy News Prime (26-10-21)
05:29
2022 Budget: Minority demands removal of Special Petroleum Taxes on petroleum products (26-10-21)
09:30
Faked Kidnapping: 29-year-old woman sentenced to 6 years imprisonment in hard labour (26-10-21)
05:06
Joy News Prime (26-10-21)
01:33:54
Opuni-Agongo Trial: Court dismisses claims of bias against Justices Dotse and Honyenuga (26-10-21)
03:07
Joy News Prime (25-10-21)
01:05:30
Police and Faith-based org. agree to educate members and enforce the law - JoyNews(25-10-21)
05:16
Security Recruitment: Youth troop to various centres for jobs - Joy News Prime (25-10-21)
03:20
Bird Flu Outbreak: Gov't approves disbursement of over GHS 40m to contain spread (25-10-21)
02:44
Labour Unrest: Over 28,000 health workers to abandon post starting Tuesday - JoyNews (25-10-21)
09:12
Prove 1M ballot papers were thumb printed in favour of NPP - EC challenges Mahama (25-10-21)
05:26
I doubt the impartiality of Justice Dotse; he should recuse himself – Dr. Opuni (25-10-21)
05:17
Oyarifa Road Protest: Youth Chief, others arrested as residents demand fixing of roads (25-10-21)
06:48
Group attacks police vehicle for attempting to rescue a man being lynched (22-10-21)
03:56
Funeral of Vice President's Mother - Joy News Prime (22-10-21)
04:34
Walewale-Bolgatanga Highway Accident: 2 Police officers dead; 3 other officers injured (22-10-21)
02:01
Joy News Editorial (22-10-21)
05:34
Law School Exams: Over 400 students denied admission drag General Legal Council to court (22-10-21)
07:10
ACP Agordzo's fight for his interdiction to be revoked suffers another adjournment (22-10-21)
02:44
By-Election Violence: Victims of Ayawaso West Wuogon incident call for more engagement (22-10-21)
11:11
Akufo-Addo commissions 2nd phase of Zoomlion Compost Plant at Adjen Kotoku - JoyNews (21-10-21)
05
President's response to Aflao Chief disrespectful and in bad taste – Ketu South MP (21-10-21)
18:15
Pupils of Markaz English-Arabic school fear structure will collapse on them - JoyNews (21-10-21)
08:49
Healthcare Delivery: New Tatale Polyclinic is yet to be operationalized - Joy News Prime (21-10-21)
03:32
Nyankyerenease Murder: Man allegedly murdered his pregnant wife is dead - Joy News Prime (21-10-21)
06:06
Joy News Prime (21-10-21)
01:30:46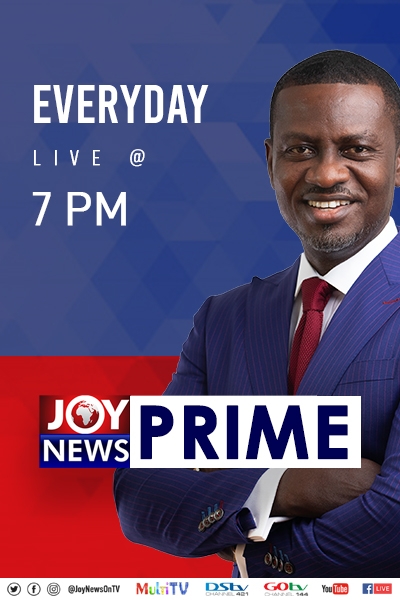 This is the major news bulletin; more diverse, fluid, focused and targeted content.
It runs daily from 7pm – 9pm and gives vivid and a more detailed approach to the issues with diverse inputs from the various experts.
The show is hosted by Israel Laryea, an ace broadcaster with much experience and delivers content to the awe of his viewers, engaging his guests in the most enlightening way.